Telco Electronics T1 - Indoor/Outdoor Pole-Mountable Wireless Modem Router 

Developed by Telco Antennas in Brisbane, Australia.
Latest Firmware - TelcOS Melaleuca Current version: 1.0.10

What's new: Band Locking, support for DNSSEC and DNSCrypt, advanced modem management commands in CLI, performance enhancements
Waykat Services were the 1st company in Australia to take this modem out into the field in a very regional area of Victoria and put it through its real world tests
"We were absolutely wrapped and blown away with the results of the T1 it fried every other modem that I put up against it..."
---
Suited to the rough Australian environment, we specifically designed the Telco T1 to give you more.  T1 is a highly advanced, easy to use, ruggedised wireless modem router delivering 300Mbps LTE-A reliability for mission critical services.   
More possibilities - A wireless modem router powered by PoE over only a single ethernet cable and able to withstand the elements.
More security - A refined new operating system, TelcOS™ Melaleuca, delivering reliability and ease of setup along with the latest in security and VPN technology.
More flexibility - External antenna connectors, 3G/4G/4GX support for the entire APAC region, and a versatile mounting system.
---
Key Features
300Mbps 4GX anywhere, rain or shine and on the go
Provides full 4G/4GX/4G+ (LTE Advanced) internet service over Wifi and LAN

Up to 300Mbps/50Mbps (download/upload) internet speeds - LTE Advanced technology

Built with industry leading, premium Sierra Wireless modem chipset

Covers Telstra 4GX, Optus 4G+, Vodafone 4G networks with 3G fallback

Weather-resistant pole-mountable package

Stationary or mobile fully supported

Supports frequency bands used in Australia, New Zealand, APAC and Oceania

PoE powered (PoE adaptor is included)

Onboard SIM slot

Auto failover from 4G to WAN or from WAN to 4G

Load balancing between 4G and WAN

Band Locking
Wifi where you want it
Long range, secure Wifi using reliable Qualcomm-Atheros wireless chip

Up to 100m radius Wifi coverage area (clear line of sight)

Up to 100m unobstructed, up to 30m indoors

Services up to 100 clients simultaneously

Guest networks

Multiple SSID's with security and firewall profiles
Usage
Put the modem where the signal is
Save cost with the unique pole mountable design

Self-contained all-in-one: modem, switch, router, wireless AP and VPN client/server

Provides full 3G/4G/4GX/4G+ internet service as a standalone all-in-one, or can effortlessly integrate into an existing network

Small office or home office applications

Permanent, semi-permanent, or temporary installations

Unique built-in bracket mounts in a variety of applications and is ideal for pole or wall mounting - straps and screws included in the box

Being a Cat-6 LTE-A modem, in areas with poor signal the T1 works better and is much more reliable than Cat-4 LTE modems
Servicing
mining

construction

field research

clubs

parklands

WISPs

outdoor events

mobile vendors

hospitality

marine

transportation

sport

emergency services

agriculture

retreats

digital signs

vending machines

and more
---
Performance Comparisons
In rural New South Wales on the Telstra network, Waykat Services benchmarked the T1 against several other modem routers.  All devices were connected using a Telco 700-2700MHz Omni antenna. 
All trademarks belong to their respective owners.
Telco Electronics T1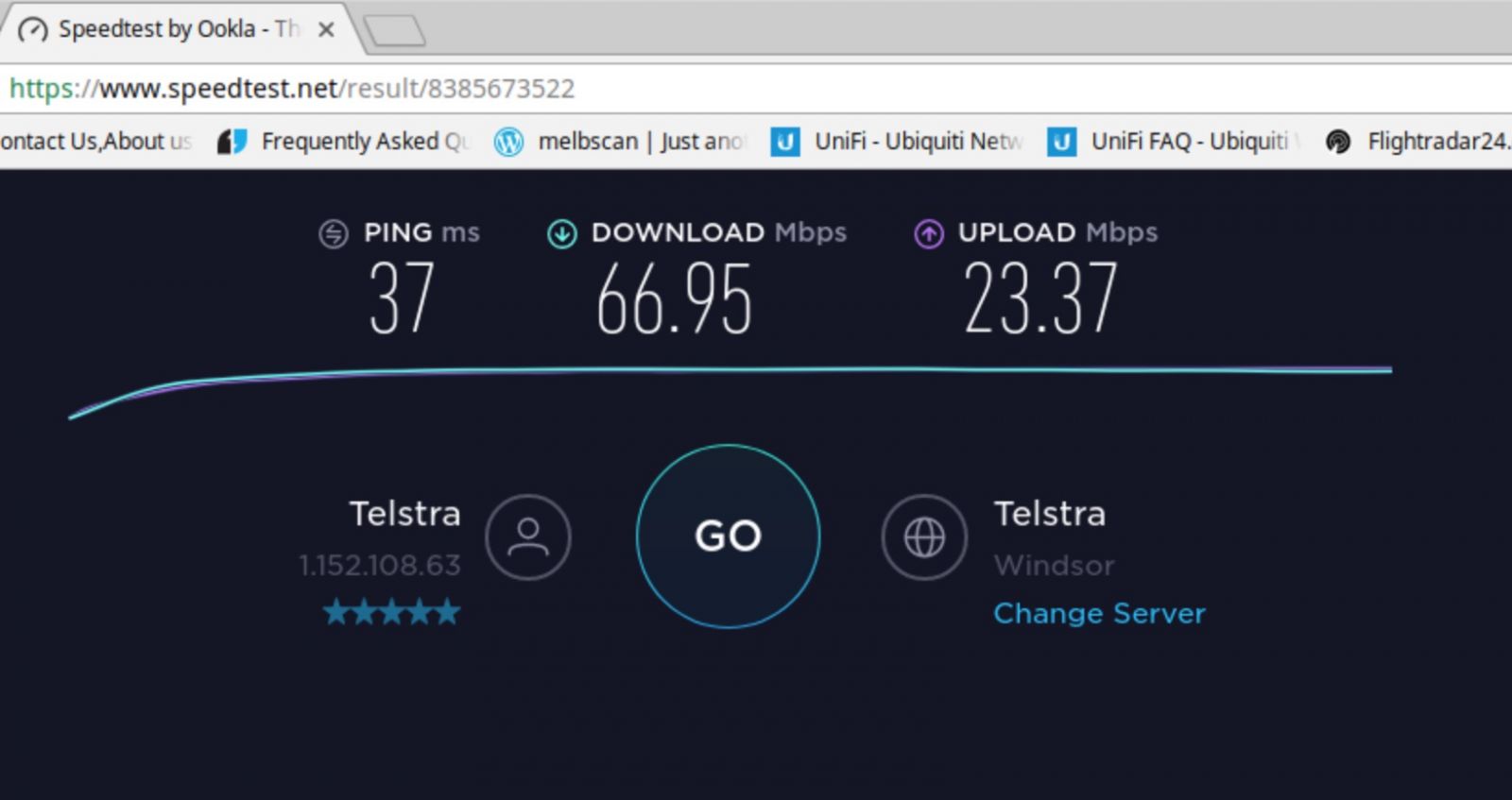 NETGEAR® Nighthawk® M1


Comset CM210Q-W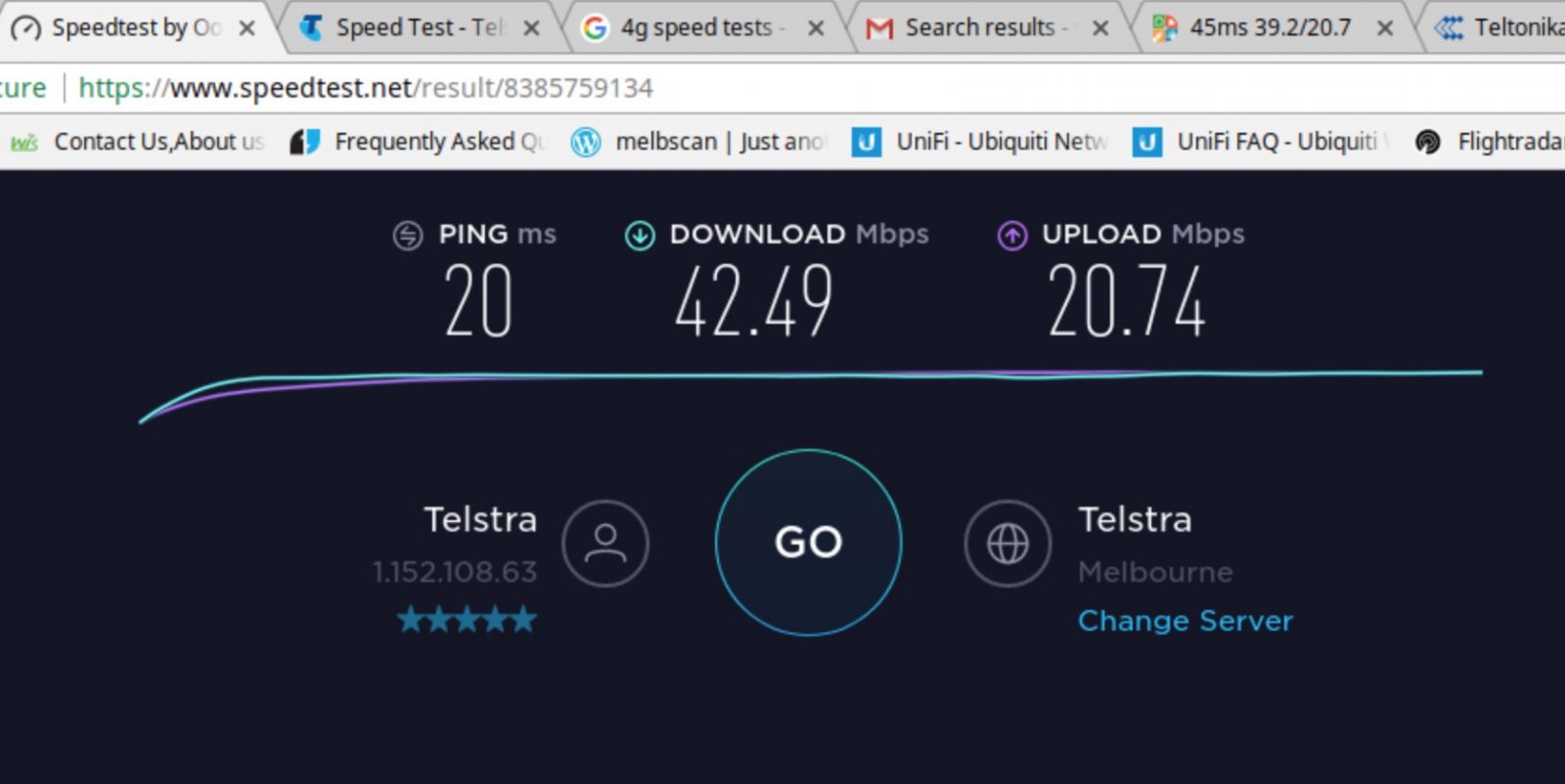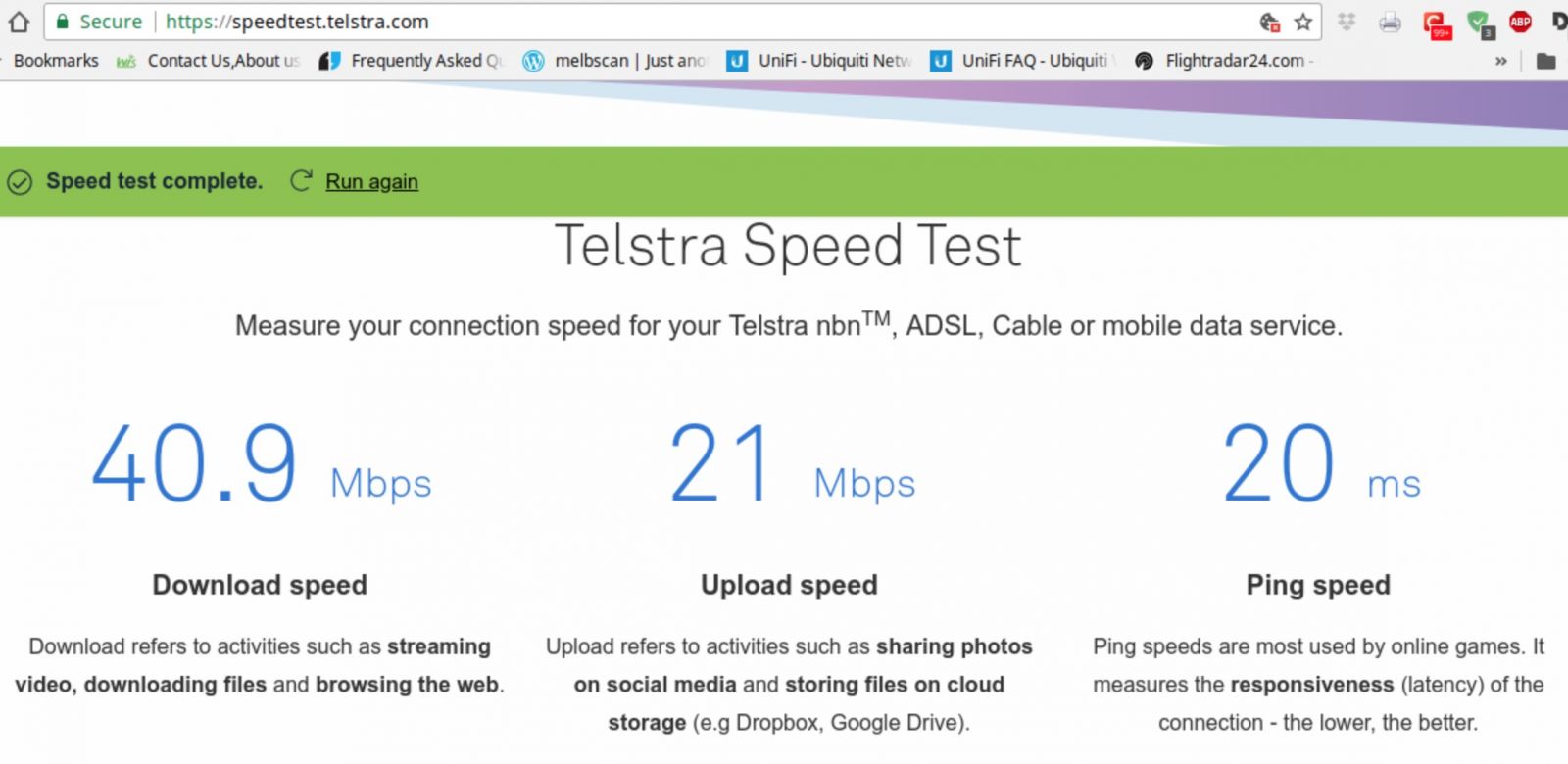 ---
TelcOS™ Melaleuca

Designed and developed by Telco Antennas in Brisbane, Australia. 
Made with trusted, industry standard technology, and it's open source
Powerful, yet easy and secure embedded OS designed and developed by Telco Antennas

Direct support for Australian mobile networks

Reliable Wifi with options including: guest networks, scheduling, client isolation

Secure firewall with support for port forwarding, traffic rules and more

Download backups, or clone a configuration to multiple T1's with a single file

Latest security patches applied

Incorporates KRACK Wifi vulnerability countermeasures

Mobile browser support

Dark theme + Light theme

DHCP server including address reservations

Wake on Lan (WoL) - wake up other computers attached to the T1 remotely

Ping reboot - reboot if a host is unavailable for too long

Remote logging - send logs to a logging server

Built with a rock-solid Linux® core based on the latest stable OpenWrt® *

Includes the latest in VPN technology: WireGuard®
Band Locking
Lock on to the best frequency bands in your area (available from TelcOS Melaleuca 1.0.10)

Tune the T1 to your antenna

Uncompromising features for IT Admins and Power Users
Full CLI access

BusyBox environment

Writable file system

Scripting support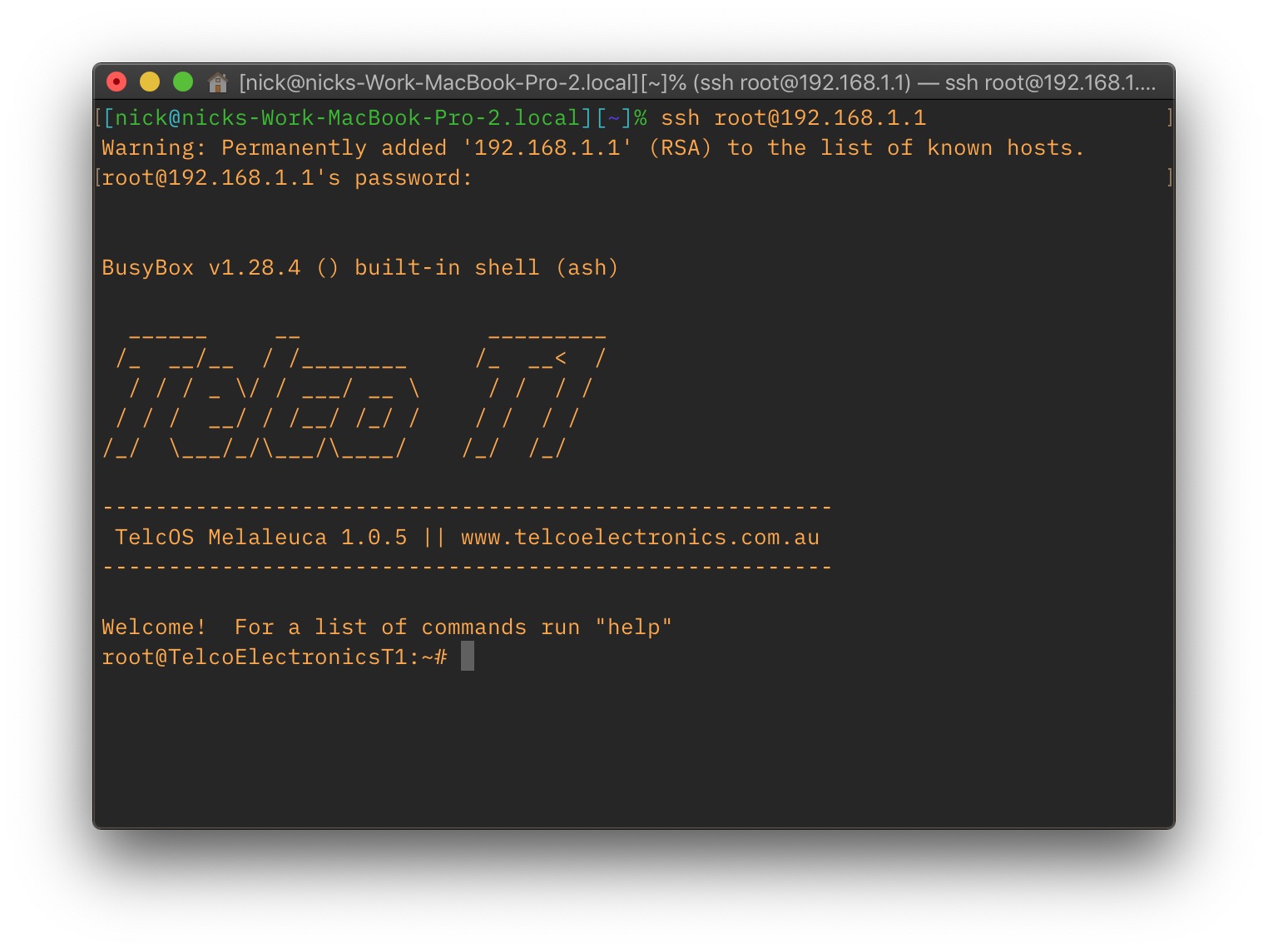 Real insights with Realtime Graphs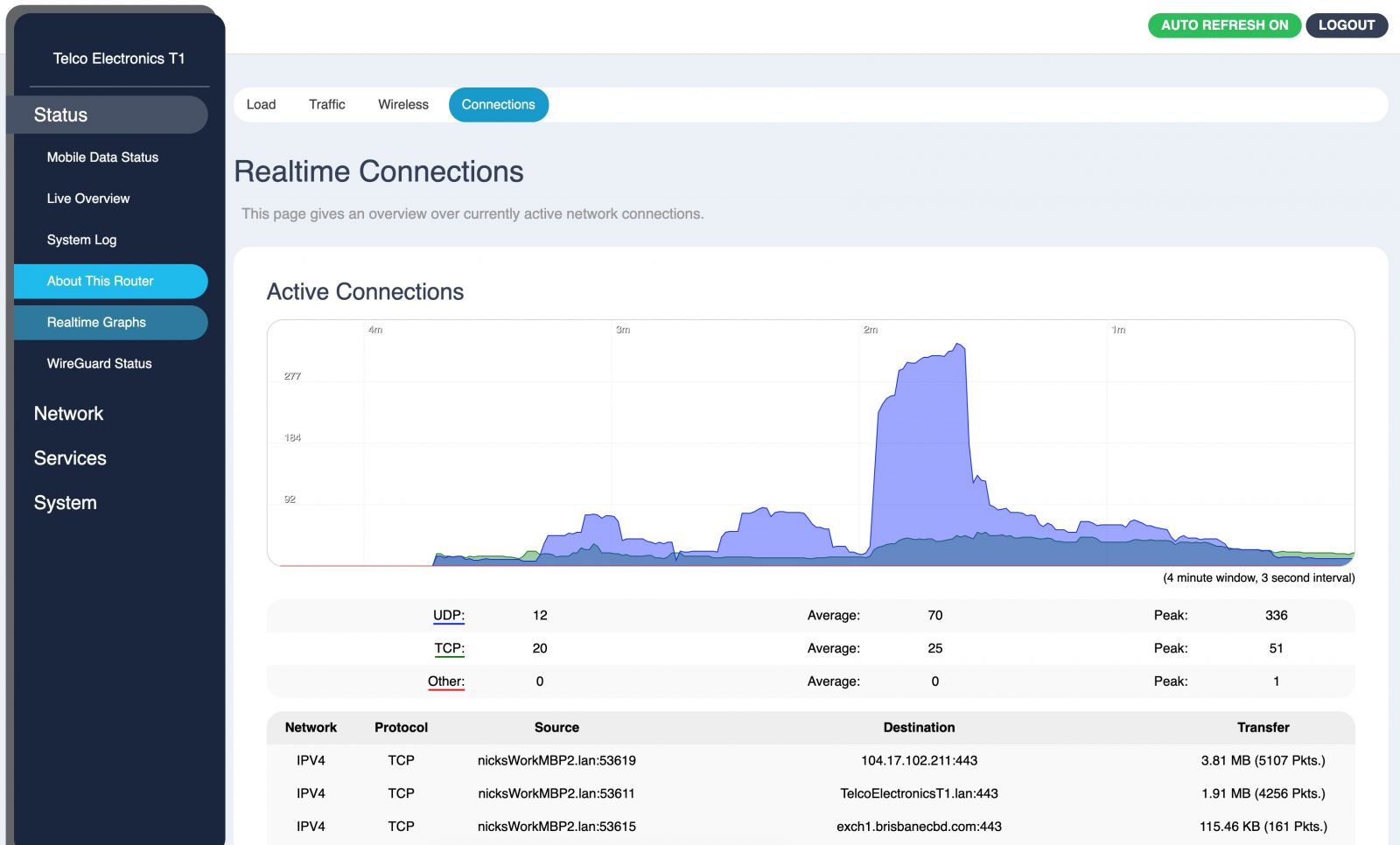 ---
Specifications / Frequency
Electrical
PoE powered - guaranteed 50m range over Cat6 cable

IEEE 802.11/b/g/n

Antenna connectors

Mobile data: SMA Female antenna connector

Wifi: RP-SMA Female

2.4GHz WiFi

up to 300Mbps capacity

up 100m radius outdoor coverage area 30m indoor

Recommended for up to 100 clients

Two ports - 1 x LAN - 1 x WAN

WAN Port

Can be changed to extra LAN

LAN Port

Can share 4G with a multi-port switch or a single computer

Full SOHO (small office/home office) router capabilities

Can be used as a standalone device, or provide 4G to an existing network setup:

DHCP

Firewall

VPN - server and client

Cat-6 LTE Advanced modem

Peak Download Rate: 300Mbps

Peak Upload Rate: 50Mbps

1x Micro-SIM slot

Quality Assured: ISO 9001

Power consumption: <12W

Ask us about our compatible solar kit
Supported Frequency Bands - Entire APAC Region
Full support for frequency bands used in Australia, New Zealand, APAC and Oceania.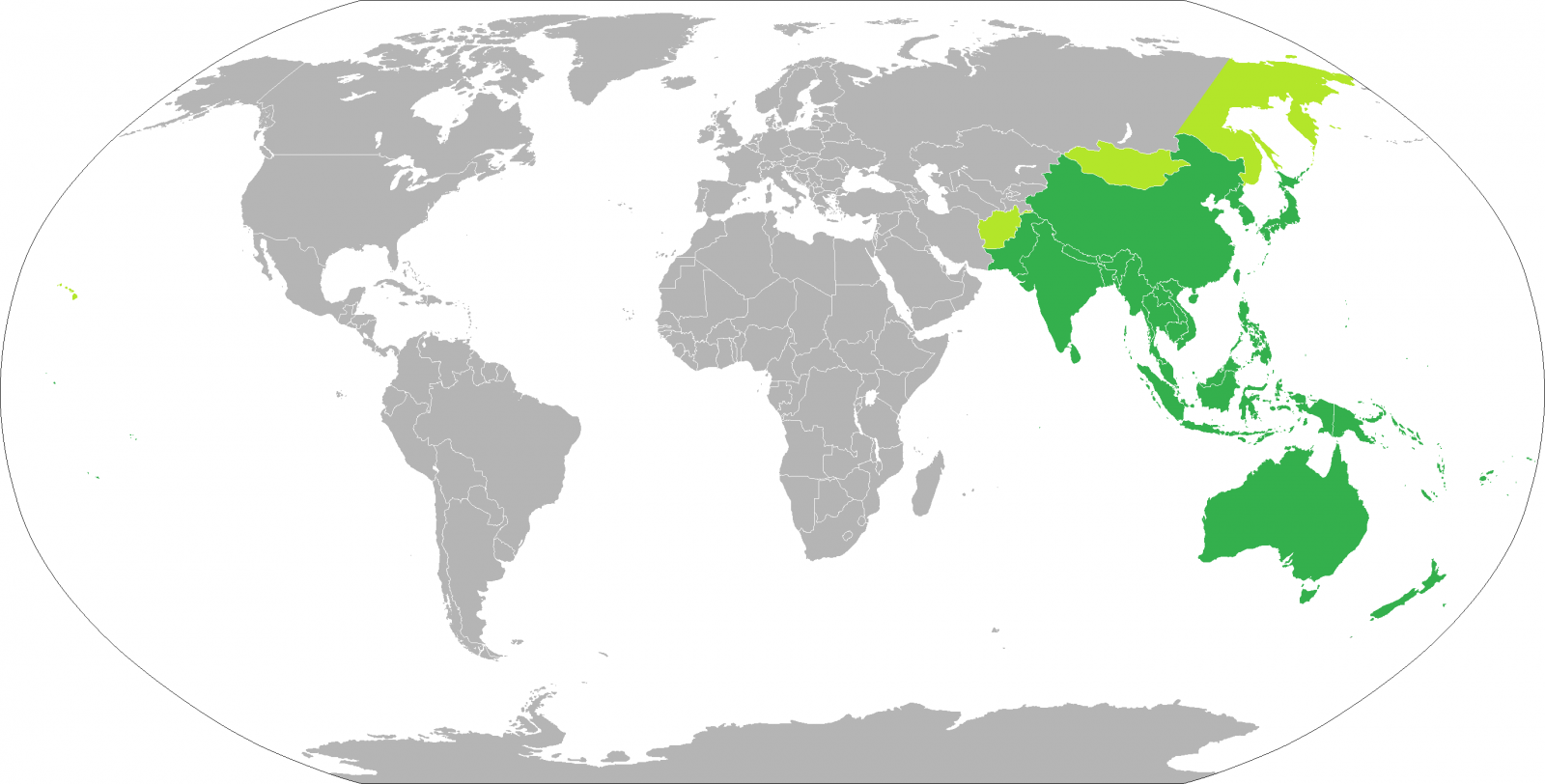 4G LTE/LTE Advanced

B1, B3, B5, B7, B8, B18, B19, B21, B28, B38, B39, B40, B41

3G
Network Service Compatibility

Yes/No

Telstra 4GX Band 28 (700 MHz)

Optus 4G+ Band 28 (700 MHz)

Telstra Next-G™ Band 5 (850 MHz)

Vodafone 4G+ Band 5 (850 MHz)* *Please check Vodafone Coverage Map

Optus Regional 3G Band 8 (900 MHz)* *Please check Optus Coverage Map.

Vodafone Regional 3G Band 8 (900 MHz)* *Please check Vodafone Coverage Map.

Telstra/Optus/Vodafone 4G Band 3 (1800 MHz)

All Carriers - Urban/Metro 3G Band 1 (2100 MHz)

Optus 4G TDD Band 40 (2300 MHz)

Telstra 4G Band 8 (900MHz)

 
Telstra 4GX Band 7 (2600 MHz)

 
Wifi
IEEE 802.11b/g/n up to 300Mbps

20MHz/40MHz channel width

Up to 398mW transmit power

Modes

Access Point

Client

Ad-hoc

IEEE 802.11s Mesh

Monitor

WDS - Wireless Distribution System

Encryption

WPA2-PSK

WPA-PSK/WPA2-PSK Mixed mode

WPA-PSK

WEP Shared Key

WEP Open System

No encryption

MAC Address Filter

Supports up to 4 SSID's with unique security and firewall profiles

Guest SSIDs

Isolate Clients - prevents client-to-client communication

Hide SSID
Physical
Height: 163mm

With antenna: add 190mm to height

Width: 85mm

Depth: 44mm

Weight: 200g

Operating temperature: -10° to +55° C

Operating humidity: 10% to 90% non-condensing

Pole-mountable installation - stainless straps included

Screw-mountable installation - stainless countersunk screws included

Self-contained and weather-resistant for indoor or outdoor use

Various mounting options - including screw, and pole mounts, i.e. Aluminium Fascia J pole - stainless mounting straps and screws are included

Small form factor for versatile installation
Mounting hardware options
These are some of the best mounting options to consider when sizing up the location for your T1 - remembering that this versatile device can be mounted using a variety of options - your imagination is your only limitation!
Power adaptor (PoE, included)
Australian plug

Passive PoE

1x PoE port

1x network port (works with LAN or WAN port on T1)

Input: 100~240V 50/60Hz 0.5A

Output: 24V/0.5A

Guaranteed 50m range over Cat6 cable

Ethernet pins: (4,5)+, (7,8)-
Package contents
Outdoor 4G LTE Advanced Wireless Router (Telco Electronics T1)

Power adaptor (Australian plug PoE adaptor)

2x antennas - 1x LTE and 1x WiFi

2x stainless straps

2x stainless screws (1/4 inch length)

Ethernet cable

Quick start guide
Product picture: